Rambling Through The Oconee Swamp
Ramblings in the Oconee Swamp
There are few finer adventures than getting yourself lost in a swamp! That is what happened the first time I visited the Oconee Swamp. I had myself a very nice climb in a tree I felt was worthy of my attention, but when I hit the ground and tried to find my way out I found I was really disoriented and lost! I was thinking for a while that I might actually be spending the night in the place because evening was approaching and I had no real idea of which way was out.
The second time I came here, with Wild Bill, I was a bit more cautious about where I was and how to get out. We got only slightly lost this time!
Then yesterday I came back for the third time, with Wild Bill and Will Cottrell, and we didn't get lost at all. Not only did we not get lost but we actually found our way through the swamp to the river and discovered several more great trees along the way.
We had a GPS! And extra batteries. And I was carrying a map! How novel is that!
The morning was chilly regardless of the fact that the calendar was saying that it was spring. Jeep windows were rolled up and the heater was on as Wild Bill and I rolled southeastward toward our meeting with Will at Jittery Joe's Coffee Shop almost sixty miles away. After coffee and sausage/ biscuits the morning was looking better, and we headed on down the road toward the "swamp."
A long dirt and dusty road led us into the wilds and on to the edge of the swamp. After parking and hauling out the gear, I broke out the GPS and handed it to Will. You need to understand that I am a wilderness adventurer, not a technophile. Yes, I own a GPS, a very nice one in fact, but I am not proficient in its use. Remember that I only learned to use a smartphone a couple of months ago!
Anyway. Into the swamp, with Will and the GPS leading the way. We started off on a trail but in only a couple of hundred yards we left it and headed into the darker regions of the riverine bottomland. Within a hundred yards we found ourselves a nice tree, sent up a rope and had ourselves a nice climb, me and Wild Bill in one nice sweetgum, Will in another sweetgum only a few yards away. By now the day had warmed up, the sky a brilliant blue overhead, and the swamp and trees were ours to enjoy! Great climbs, if I do say so! Both trees took us up to more than a hundred feet with views across the swamp.
By lunchtime we were back on the ground and ready to go searching for the river which, according to the GPS, was only a few hundred yards away across the swampy bottom. The key to success was the presence of the GPS unit. I now understood how I had gotten lost, because even with the GPS showing us the way, my feet wanted to lead me in the wrong direction. I was overjoyed when we finally reached the riverbank. I had known all along that there was a river in here but now I was actually standing on the bank. Pure joy!
We had passed several more trees worthy of consideration as we marched toward the river and it was decided that a particularly large white oak, on a spot of slightly higher ground, should be next. We went back to our first tree, named "Ninety-One" for some reason I do not understand, retrieved our gear and returned to the big white oak.
Up went the lines, followed by the ropes, followed by us! It was a very nice climb but only one of many fine trees that we encountered. There are more good climbs here than I could ever do.
I will be back here again … with my GPS … and with Will to work the thing!
WILL HANGING OUT OVER THE RIVER
WILDBILL GETTING SET TO CLIMB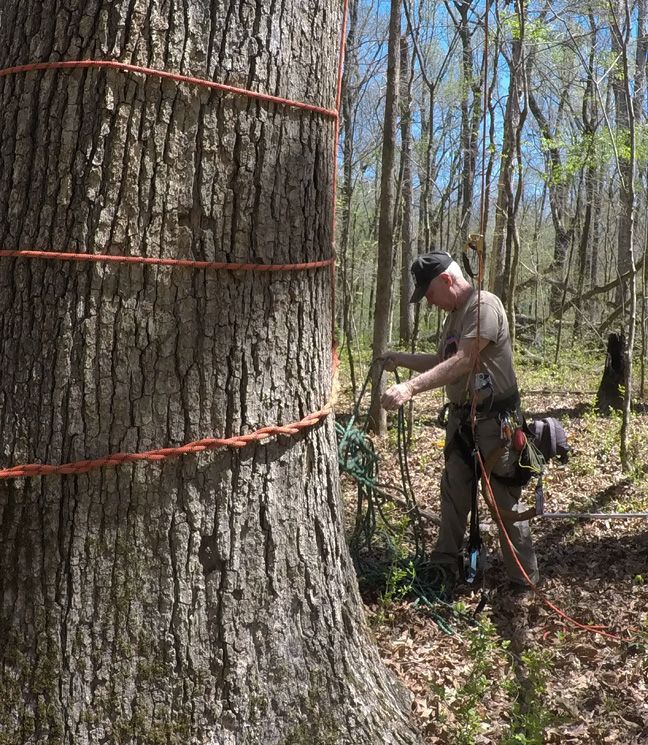 WILDBILL ON THE WAY UP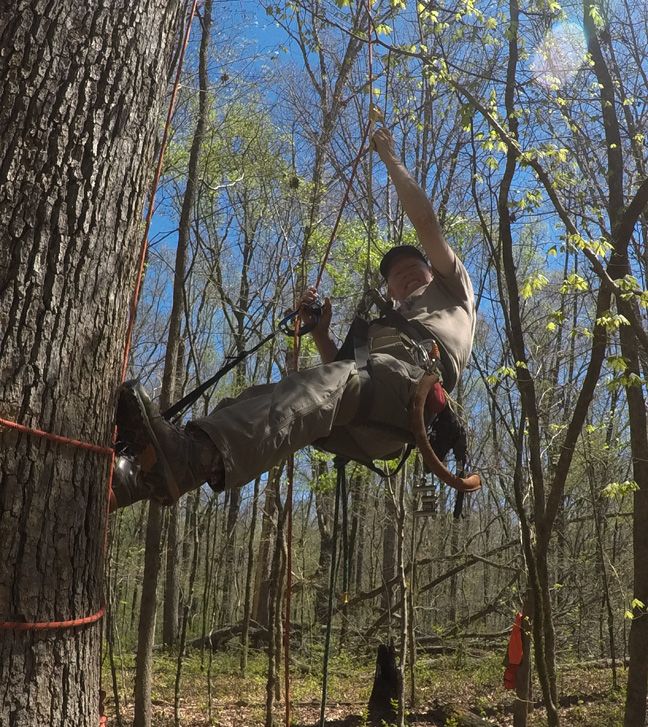 CLIMBER IN THE TOP OF "NINETY-ONE"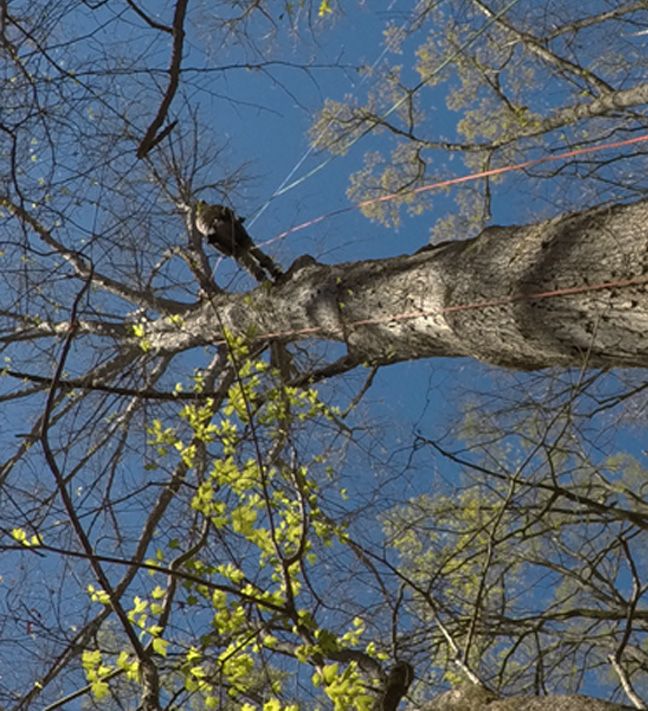 SWEETGUM BALL
WILL AT THE TOP OF "HIS" SWEETGUM