(please pardon the disjointed nature of this posting, as it is mostly copied and pasted Facebook comments)
Just returned from Lancaster, where we rescued Ralph, a poor kitty that had been stuck in this Red Oak for 7 days. Temperature = 11 degrees, windchill negative 10. The icy temps were the least of the difficulties. Have a look at his position in this tree at 70+ feet (red circle)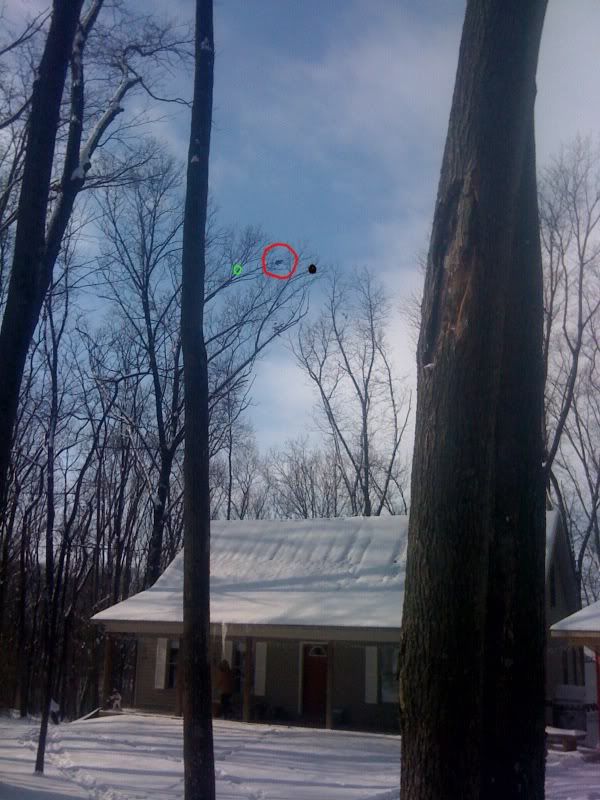 Seeing this image when wee arrived on the scene was troubling, and it worsened as we walked around to get a better perspective. There were no limbs above the Ralph, and none high/near enough to offer any double crotching, or limbwalking maneuvers.
I made what I thought was the perfect shot to have any hope of making the rescue (in the photo, the green circle is the TIP), but it depended on Ralph's interest in cooperating...
This guy was freaked out. Imagine being up in a tree for 7 days... no food... no water.. FREEZING... NO SLEEP!!!! This cat was beyond psycho when we met him and food was the last thing on his delirious, feline mind. Angie went up first, and tried to lure him toward the trunk with food... No such luck... he ran further out this limb, to the very end of the twigs.
After realizing that Ralph was totally out of his mind, and unreceptive to treats, we formulated a plan to use the sidewinder to launch a line over the skinny limb he was on and pull the limb toward an adjacent limb, shake shake, and have him transfer.... Ground crew standing ready with an outstretched blanket, just in case...
Pulled the slingshot bands back, took aim... and .. SNAP! Band BROKE!!!
The plug was lost in the deep snow...
Zach, a faithful friend to the owner(who was not present) and all around great guy, had an ingenious idea for repairing the sling shot head with the butt of a mini mag-light he happened to have in his pocket.
Take aim again, and, let her fly! great shot right where we wanted it.
We were able to successfully perform the shakedown without sending Ralph sailing through the air, and hopefully onto the outstretched firemen's blanket.
This new location, (in the photo it would be the black dot) was still not a desirable spot for any type of limb walking. We almost resorted to trying to shake the cat down, with hopes of catching him in the blanket....
I climbed up to the leader Ralph was on, and used the Alternate lanyard technique to climb/shimmy up/out about 40' to within 7' of him. Still tied in at my original tie in point which was now nearly horizontal with me. Angie clipped the Sidewinder slingshot onto the rope, I hoisted it up to me, and extended the pole to 8'. Things were iffy at this point... as I was closing in on Ralphy. He, of course scurried to the very end of the upper branches as I approached. I was able to lasso him with the sidewinder head, and pull him toward me without him falling or jumping ...whew! I snatched him up and bagged him. It was very intense, I grabbed him by the scruff an pulled him to my chest, and he relaxed in my arms purring loudly. We relaxed there for a few minutes before I tried to bag him. Of course he freaked out, and clawed and bit me as I put him in the empty rope bag. In the end the plan came together, and everyone is safe and warm.
The temperature plunged even deeper overnight to -11... I am doubtful Ralph would have survived another night in these conditions.
Thanks to Angie, and Zach who played every bit as much of a part of this rescue as myself.
The Rescue took nearly 4 hours to complete. Before leaving, we insisted the owner take him to the vet immediately.
random photo taken by Zach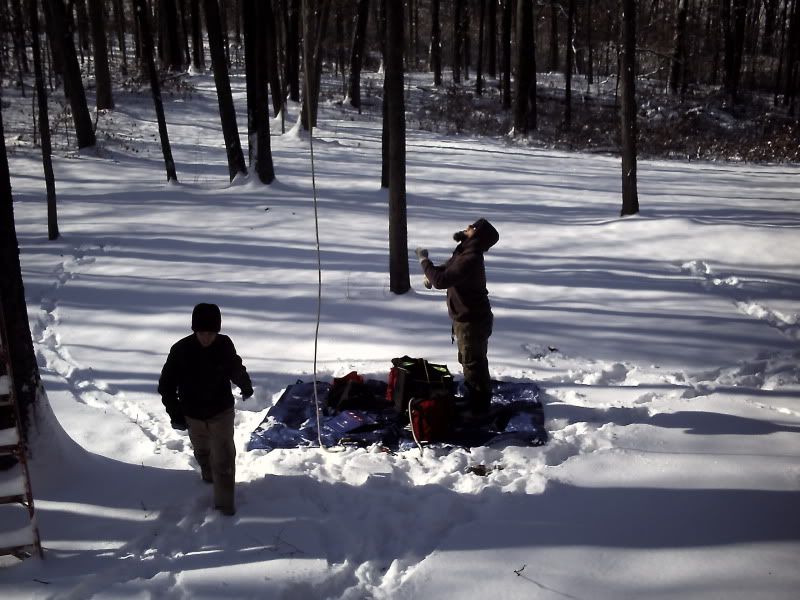 Video of the finale