Adventures At The Panama Rainforest Discovery Center
I'm home again! Whatever!
As usual, on the way out of Panama, I stopped off to do some climbing at the Panama Rainforest Discovery Center a short thirty minute drive from the center of Panama City itself. The staff there are always on the alert for my appearance, knowing that my being there will give them a chance to go up into the canopy.
This time we were looking at a newly found and very huge and inviting tropical fig tree. I had done a quick climb in the tree on my last visit but this time I wanted to be spending some quality time up among its huge spreading branches, leaders, and limbs. David Zimmerman, a U.S. citizen who resides in Panama City, and Julia Sarco, a center naturalist, would be climbing with me.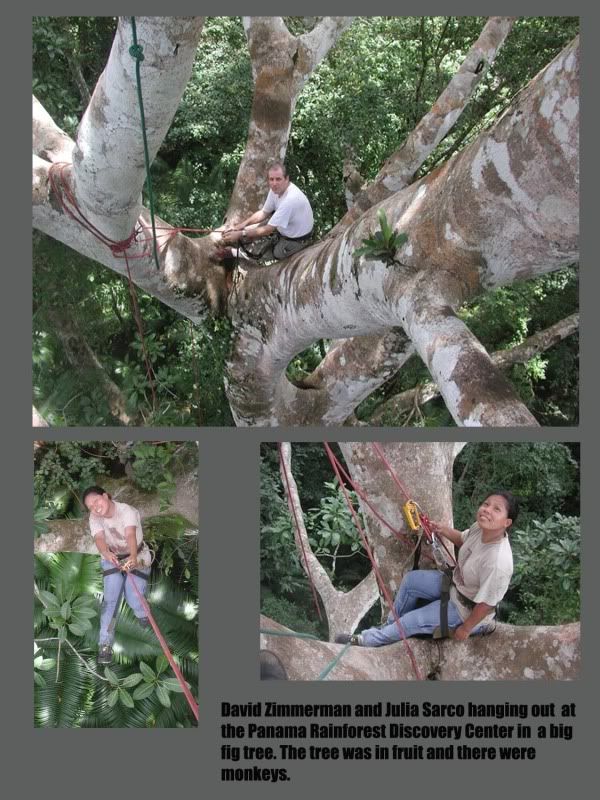 In the photos above David and Julia are pictured within the main divergence of leaders at eighty-five feet up. I climbed above them to about one-hundred and twenty-five feet and could have gone another twenty to thirty feet higher had I not been spending time watching the howlers.
We were rigged and climbing shortly after my arrival and I was pleased to note that the tree was in fruit. We were only a short way off the ground before we realized that the howler monkeys had also taken note of that fact. There were monkeys up there and a few of them were in the tree with us. As we climbed higher, they just sat and watched, curious but not offended by our presence. I expected them to leave but instead they eventually moved even closer and we counted at least a dozen, almost all of them in the tree with us. The big alpha male came closest of all, checking us out, then moved on across the canopy into a neighboring tree. The rest of the troop followed along over the course of the next half hour, taking the same route, passing very close.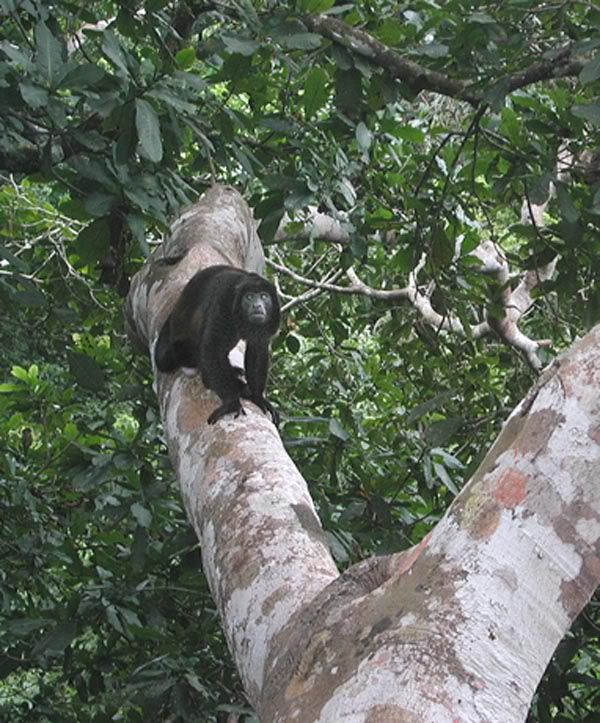 Shortly after the howlers moved on through the canopy we spotted another group of monkeys, this time capuchins. They were on a parallel path with the howlers and we were wondering if we might get to witness a territorial dispute. It never happened although they were eyeing each other constantly.
The climb ended after about four hours off the ground and David and I headed back to the city, exhausted and ready for a day-ending rum'n'coke before heading out for dinner. It was a grand day in the canopy.